Contact tracing, with indoor spraying, can curb dengue outbreak
February 17, 2017
An airy, traditional Queenslander style house in Cairns, Australia, is open to the breezes, but also to mosquitoes. Credit: James Cook University
Contact tracing, combined with targeted, indoor residual spraying of insecticide, can greatly reduce the spread of the mosquito-borne dengue virus, finds a study led by Emory University.
In fact, this novel approach for the surveillance and control of dengue fever—spread by the same mosquito species that infects people with the Zika virus—was between 86 and 96 percent effective during one outbreak, the research shows. By comparison, vaccines for the dengue virus are only 30-to-70-percent effective, depending on the serotype of the virus. Read more.
Abstract
The widespread transmission of dengue viruses (DENV), coupled with the alarming increase of birth defects and neurological disorders associated with Zika virus, has put the world in dire need of more efficacious tools for Aedes aegypti–borne disease mitigation. We quantitatively investigated the epidemiological value of location-based contact tracing (identifying potential out-of-home exposure locations by phone interviews) to infer transmission foci where high-quality insecticide applications can be targeted. Space-time statistical modeling of data from a large epidemic affecting Cairns, Australia, in 2008–2009 revealed a complex pattern of transmission driven primarily by human mobility (Cairns accounted for ~60% of virus transmission to and from residents of satellite towns, and 57% of all potential exposure locations were nonresidential). Targeted indoor residual spraying with insecticides in potential exposure locations reduced the probability of future DENV transmission by 86 to 96%, compared to unsprayed premises. Our findings provide strong evidence for the effectiveness of combining contact tracing with residual spraying within a developed urban center, and should be directly applicable to areas with similar characteristics (for example, southern USA, Europe, or Caribbean countries) that need to control localized Aedes-borne virus transmission or to protect pregnant women's homes in areas with active Zika transmission. Future theoretical and empirical research should focus on evaluation of the applicability and scalability of this approach to endemic areas with variable population size and force of DENV infection.
.-.-.-.-.-.-.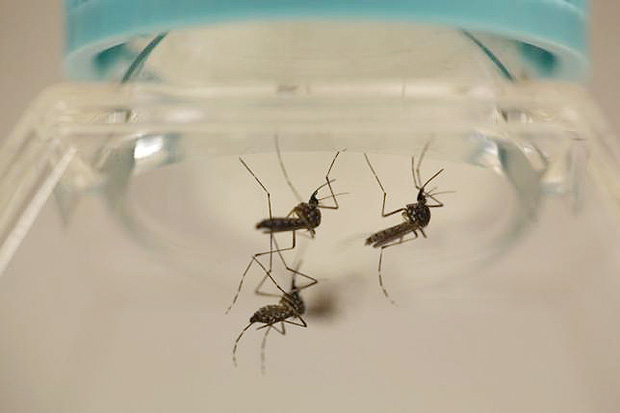 Um programa de combate à dengue baseado nas informações dos pacientes infectados e na aplicação de inseticida conseguiu o notório índice de 86% de redução de casos na cidade de Cairns, no norte da Austrália.
O trabalho foi apresentado à imprensa no encontro anual da Associação Americana para o Progresso da Ciência (AAAS, na sigla em inglês), em Boston, e publicado nesta sexta (17) na revista "Science Advances".
O segredo, segundo os cientistas, é o bom uso da informação fornecida pelos pacientes. No formulário de notificação da dengue às autoridades, preenchido pelo médico, consta também um telefone para contato. Leia mais.
---