Deforestation is rife in the Amazon, Colombia and the Philippines
Deforestation is rife in the Amazon, Colombia and the Philippines, say environmental groups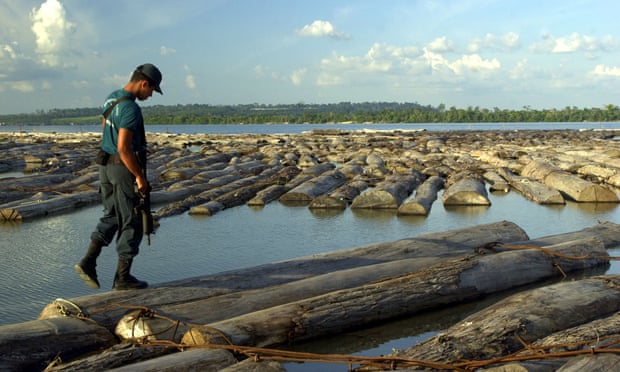 An armed officer inspects a seizure of thousands of illegal mahogany logs in Brazil. Photograph: Dado Galdieri/AP
British shoppers could be unknowingly buying wooden furniture, flooring and even food items that are byproducts of destructive illegal logging in the Amazon, environmental campaigners are warning.
Friends of the Earth is calling on ministers to make companies reveal the source of their products in order to stop the black market trade. Last week human rights watchdog Global Witness revealed that 185 environmental activists were killed in 2015, many of whom had been trying to stop illegal logging in the Amazon. An estimated 80% of Brazilian hardwood is illegally logged.
Vast areas of forest in Brazil, the Philippines and Colombia are cut down by criminal gangs. Multinational companies then use the land for palm-oil production, mining or cattle-grazing, while the wood is sold off, according to Patrick Alley, co-founder of Global Witness. Read more.
---